About
Welcome to my binocular astronomy blog. The idea of starting a site devoted to binocular astronomy had been on my mind for a while when Kevin Busarow, owner and founder of Oberwerk Corporation, asked if I would like to write a binocular astronomy blog sponsored by his company. Kevin pointed out that I am uniquely qualified to be an Oberwerk Brand Ambassador, having already purchased most of the binoculars Oberwerk sells, and at least one of every binocular mount. (I own two Oberwerk TR3 mounts.) It seemed like a perfect opportunity to turn my idea into something real, so ExploreTheNightSky was born. 
I am grateful to Kevin for challenging me to do this. Not to mention for the fine Oberwerk binoculars and mounts I observe with, made available to amateur astronomers because of Kevin's vision, his courage to start a company devoted to binoculars, his hard work, and that of the Oberwerk staff, to deliver outstanding products and great customer service.
I have been interested in astronomy since childhood. My mother, Marilyn Miles, was an Earth science teacher in the Kansas City, Missouri school system, led star tours at the Kansas City Museum planetarium, and was a member of the Astronomical Society of Kansas City (ASKC). I didn't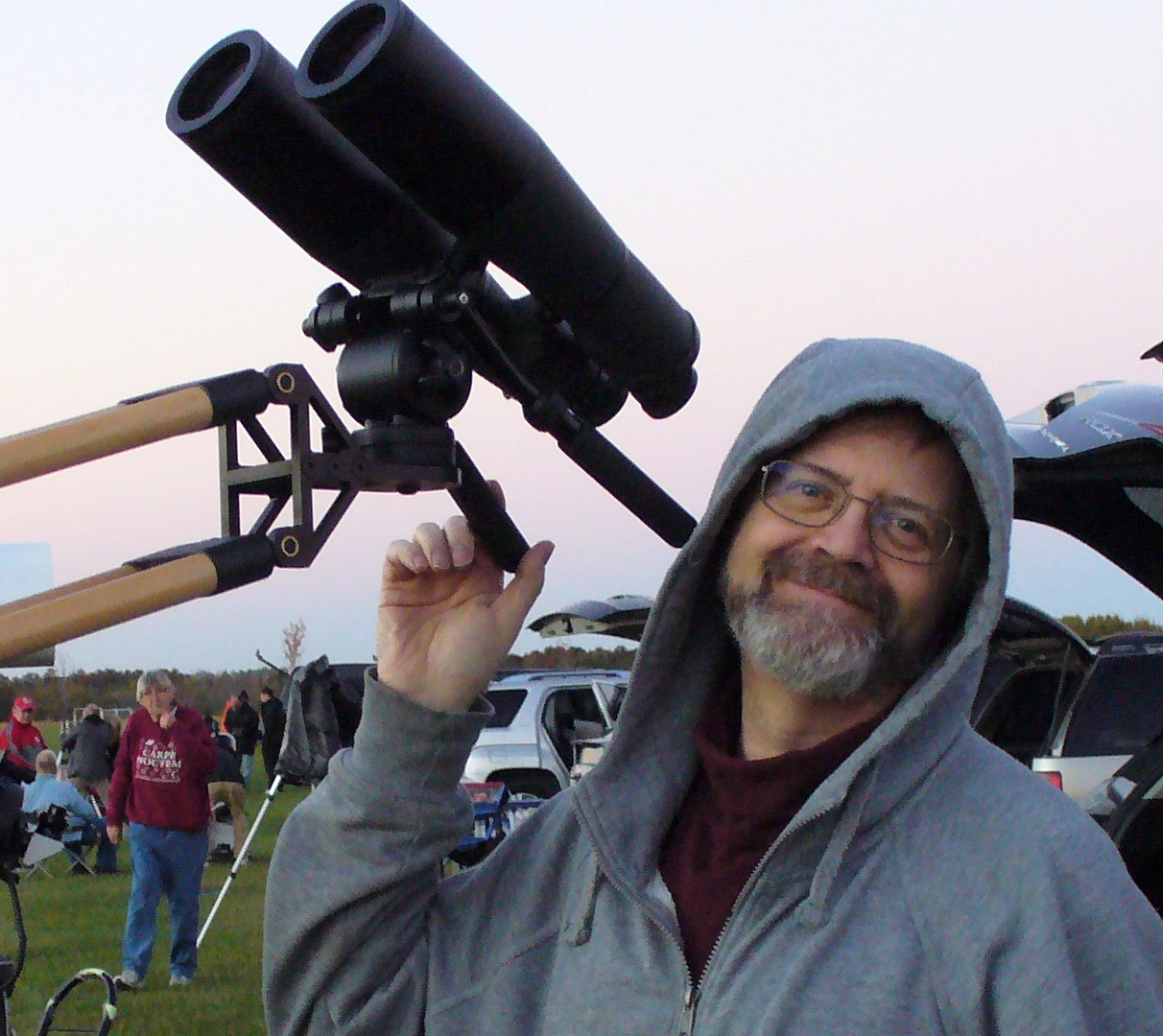 become active in the hobby until I was in my late 30s when I joined the ASKC myself in 1999. I had an early interest in binoculars, but concentrated on telescopic observation as many do, mostly using binoculars as a finding aid while hunting deep sky objects with telescopes. A few years ago I volunteered to give a talk about binocular astronomy to a church men's group, making the point during my talk that quality 10×50 porro prism binoculars are a better choice for astronomy, despite being less available now due to the prevalence of smaller and lighter roof prism binoculars that are favored for daytime use (because they are smaller and lighter). 
Not actually owning a better quality porro binocular, the logical choice was to buy one to compare with a smaller and lighter Nikon 10×42 Monarch HG, which I did own. That's when I discovered Oberwerk, bought an Oberwerk 10×50 Ultra, and was reborn as a binocular astronomy devotee. (Yes, Kevin Busarow unwittingly became my binocular astronomy savior – somewhat to his profit, it must be said.) I view the relationship as mutually beneficial.
Affiliate Links
Which brings me to the topic of affiliate links. If you purchase an Oberwerk binocular, mount, or other equipment after clicking a link in this blog to go to the Oberwerk site, I will receive a small commission. All affiliate link funds will be donated to the Smithsonian Science Education Center, in memory of my mom. So, please(!) use the Oberwerk links on this site when ordering Oberwerk products – you will be getting great equipment at terrific prices, the best customer service available, AND supporting science education in public schools. A win-win-win-win scenario.
Logo and Celestial Alphabet
The ExploreTheNightSky logo and Celestial alphabet are the creations of illustrator and lettering artist Rimma Dikikh based in Malta. Rimma can be contacted via instagram (letterin_malta).